Religious illiteracy is a luxury (we) they can no longer afford. Barbara Brown Taylor in "Holy Envy."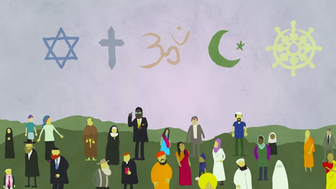 I am loving the book "Holy Envy" which is Taylor's  reflections on teaching a course in World Religions. This really jumped out at me. In today's world we cannot be ignorant of the tenets of other faiths. No matter what our job other's beliefs will touch us in some way.
Years ago, when I worked in the hospital, we had to be aware of the needs of the Gullah people who live off the coast of Georgia and South Carolina on small islands. Much of their culture has now been lost due to encroachment on their islands but they had ideas that impacted their healing. Blue is a very auspicious color for them and selecting a blue hospital room, when possible, could enhance their recovery.
The world has grown so small that we can't afford to discard other beliefs just because we don't agree with them. At some time we will be interacting with those of another faith and would do well to understand backgrounds and customs.
Placing other faith's tenets beside our own can expand our understanding of our own…..that is if we are not afraid of really exploring with an open mind. Being fearful or unwilling to step outside of our comfort zone exposes how little we have tested and explored our own faith.
Don't be afraid to talk with others openly about their beliefs and be willing to accept where they are.