I recently noticed a new message on the digital traffic sign near my home. It is a result of a social media competition launched in Georgia by the Georgia's Department of Transportation. The idea is to get signs people will notice. The one near my house reads: "This is a sign you should buckle up."  I love these and Georgia is already using them.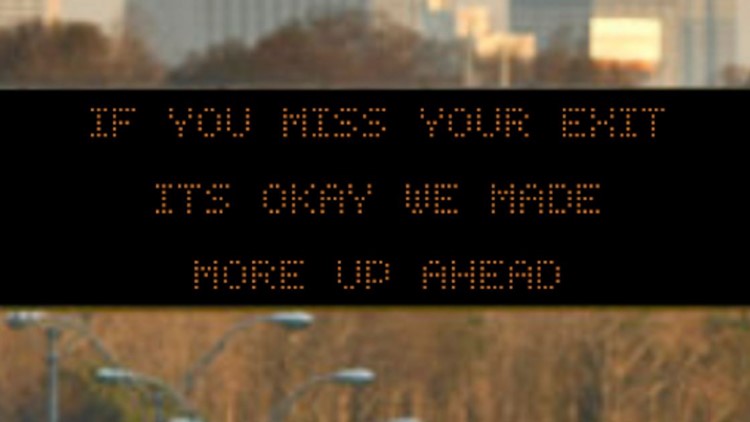 GDOT
These are the winning entries:
General Safety:
First Place: IF YOU MISS YOUR EXIT ITS OKAY, WE MADE MORE UP AHEAD
Second Place: BETTER LATE THAN NEVER
Third Place (tie): DRIVE LIKE YOUR MOMMA IS WATCHIN'; YOU ARE ALLOWED TO USE TURN SIGNALS, WE CHECKED and DRIVE SAFELY OR WE CALL YOUR MOTHER
Distracted Driving:
First Place (tie): YOU LOOK GREAT BUT THE SELFIE CAN WAIT and LOOKING AT THE ROAD IS A GREAT WAY TO STAY ON IT
Second Place: NO ONE WANTS TO SEE TRAFFIC ON SNAPCHAT, BRENDA 
Third Place: POP QUIZ, WHAT IS THE SPEED LIMIT ON THIS ROAD?
Impaired Driving (many of the messages submitted were seasonal and can be used during the holidays):
First Place:DRIVING HALF LIT IS NOT VERY BRIGHT
Second Place: DON'T SPEND THE NEW YEAR IN JAIL, PARTY RESPONSIBLY
Third Place (tie): DON'T BE A TURKEY AND DRIVE BASTED, and THE PARTY SHOULD BE LIT NOT YOU, BRING IN THE NEW YEAR SAFE
Seatbelt:
First Place (tie): THIS IS A SIGN YOU SHOULD BUCKLE UP and IF YOU DON'T WEAR A SEATBELT, PLEASE BE AN ORGAN DONOR
Second Place: WEARING A SEATBELT MAKES YOU LOOK THINNER
Third Place (tie): HERE IS THE TEA SIS, WE CAN SEE YOU SO BUCKLE UP and SEATBELTS ARE IN, EVERYBODY IS WEARING THEM
Work Zone Safety:
First Place:LOOK LEFT, LOOK RIGHT, KEEP WORKERS IN SIGHT
Second Place: WORK ZONE, SLOW DOWN, WORKERS HAVE FAMILIES THAT WANT THEM AROUND
Third Place (tie): WORK ZONES MATTER SO DO THE PEOPLE IN THEM, and AVOID DESTRUCTION MIND THE CONSTRUCTION